Do you like anime and fighting games? Anime Fighters Simulator, on the other hand, is the Roblox game for you. Collect a team of the universe's top fighters, train them till they're the best in the world.
Explore new worlds with previously unseen combatants. With so many fighters and venues to choose from, we assumed you'd appreciate some assistance. As a result, we've compiled a list of all active Anime Fighters codes.
If you've been playing Roblox's Anime Fighters Simulator, you're aware that levelling up is a time-consuming process. Thankfully, Anime Fighters Simulator cheat codes can help you advance quickly through the power levels, improve your luck to collect better drops, and acquire levels faster.
Read more :-
Anime Fighters Simulator Codes (Working)
Here's a list of all the Anime Fighters Simulator codes that are currently active.
TimeTravelTokyo – Rewards
NinjaCityRaid – Two Tickets
NinjaCity – Rewards
800klikes – Rewards
PsychicCity – Rewards
1MilFaves – Yen and XP Boost
ToadBoi – 10 minute Luck Boost
HalfBillion – Boosts and Raid Ticket
sulley1m – Luck Boost
otrademark – Free Divine Fruit
Sub2Codenex – 10 minute Luck Boost
Sub2Veyar – 10 minute Luck Boost
You should receive a notice announcing it was successfully redeemed if the code was input correctly, is still valid, and you haven't utilized it before.
Anime Fighters Simulator Codes (Expired)
PassiveBug2
PassiveBug
700klikes
2k22
TheHole
IceWastes
KingdomFour
Underworld
cyclxnee
DivineColosseum
FlameCity
Christmas
SpookyIsland
AlchemyLand
cyclxnee
DestinyIsland
FlameCity
LuckIsland
Pog400k
SCity
SlimeyIsland
thanks600k
ThanksGiving
Gold500k
ShutdownCode
NinjaRaid
NewSulley750k
Nice300k
200milcrazy
SpookyIsland
Poggers100Mil
Sub2Numerous
Sub2foxpanda
BronzePiece_
RealDaireb
Sub2Veyar
Sub2codenex
CurseHigh
Thanks150k
Insane200k
TicketCode
Almost100k
SorryForShutdown
Yeet250k
Nice200k
VirtualCastle
UpdateDelay
EmptyWorld
Craftbug
100kRecord
Sulley500k
ChimeraIsland
Almost100k
Sulley300k
Pog125k
SlayerCorps
Magic100k
Super75k
AttackOfGiants
ChuggaChugga
Lucky30k
GhoulCity
Awesome50k
Sulley
HeroAcademy
Steps to redeem Anime Fighters Simulator Codes
Following these simple procedures will facilitate you to redeem your codes in Anime Fighters Simulator.
STEP 1 : Load Anime Fighters Simulators
STEP 2 : On the left of your screen, hit the Twitter icon.
STEP 3 : In the code redemption box, type a valid code.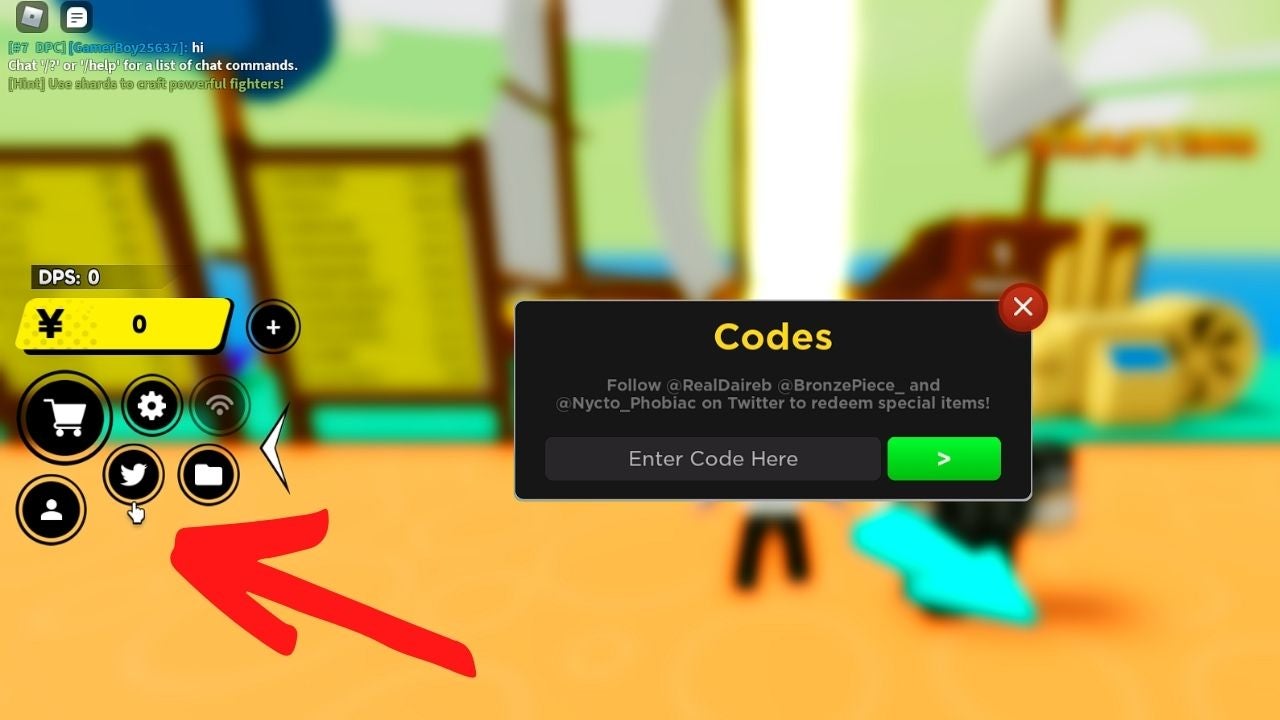 STEP 4 : To confirm your choice, hit the green arrow.
You'll receive confirmation that your reward is activated once you've input the code and pressed the green button. The majority of Anime Fighters Simulator's codes are time-based. So, if the code provides a time-based prize, the countdown will begin right away; don't waste it! Begin grinding your characters as soon as possible.
Where can I get more Anime Fighters Simulator Codes?
The official Discord, Twitter, and YouTube channels, as always, are the best sites to receive extra Anime Fighters Simulator codes. These are all excellent methods to stay informed about the game and receive any freebies directly from the developer as they become available.
Frequently Asked Questions
1.How can codes help me progress in the game?
It gives you free resources that help in progressing in the game.
2.What are the rewards?
You can get Free boosts and other useful items.
3.Will the codes remain valid for a long time?
Codes usually don't remain valid for a long time so use them as soon as possible.
Conclusion
This popular Roblox game features a large number of customisable characters, but it's not just about fighting – there's also exploration, stories, and a complex progression system that can be aided by these helpful codes. When the game reaches specific milestones, new codes are frequently generated, so be sure to add them to your favourites and like them. You can also bookmark this page to receive notifications when new Anime Fighters Simulator codes become available.