Broken Wand Studios' Roblox Boss Fighting Simulator is a popular simulation game. You will assume the role of a fighter and will be tasked with eliminating gigantic bosses that patrol the lands. Take out your best sword and see if you have what it takes to overcome the trials that lie ahead. You can modify your character to become more strong as you achieve more skills. Once you've gained enough strength, try if you can outsmart your opponent in PVP!
If you're seeking freebies, check out our list of Boss Fighting Simulator cheat codes. If you're not sure how to redeem codes in Boss Fighting Simulator, look below the codes list for instructions!
Read More :-
Boss Fighting Simulator Codes (Working)
Coins
Gold—Redeem for 5k Coins
Demon—Redeem for 5k Coins
Update1—Redeem for 500 Coins
Coins100—Redeem for 100 Coins
Coins50—Redeem for 50 Coins
Release—Redeem for 50 Coins
Twitter1—Redeem for 25 Coins
Runes
runesstack—Redeem for 5000 Runes (NEW)
TonsOfRunes—Redeem for 500 Runes
Runes7000—Redeem for 7k Runes
Sword—Redeem for 5k Runes
SuperBigRunes—Redeem for 4k Runes
2kRunes—Redeem for 2k Runes
LargeRunes—Redeemfor 2k Runes
BiggestRunes—Redeem for 1k Runes
ALotOfRunes—Redeem for 700 Runes
MassiveRunes—Redeem for 700 Runes
HugeRunes—Redeem for 500 Runes
Update2—Redeem for 500 Runes
SuperRunes—Redeem for 500 Runes
LotsOfRunes—Redeem for 300 Runes
BigRunes—Redeem for 250 Runes
Twitter3—Redeem for 20 Runes
MoreRunes—Redeem for 15 Runes
Twitter2—Redeem for 5 Runes
Crystals
MassiveCrystal—Redeem for 150 Crystals
Crystal100—Redeem for 100 Crystals
BigCrystal—Redeem for 100 Crystals
Crystal50—Redeem for 50 Crystals
SuperCrystal—Redeem for 25 Crystals
Twitter4—Redeem for 25 Crystals
Power
MegaBoss—Redeem for 5k Power
SuperBoss—Redeem for 2.5k Power
SuperPower—Redeem for 150 Power
Boss—Redeem for 25 Power
Powerful—Redeem for 25 Power
Steps to redeem Boss Fighting Simulator Codes
Step 1 : On your computer or phone, load Roblox Boss Fighting Simulator.
Step 2 : On the left side, hit the Twitter button.
Step 3 : Choose a code from our list and paste it into the "Code Here" textbox.
Step 4 : To fetch your reward, tap the Redeem button.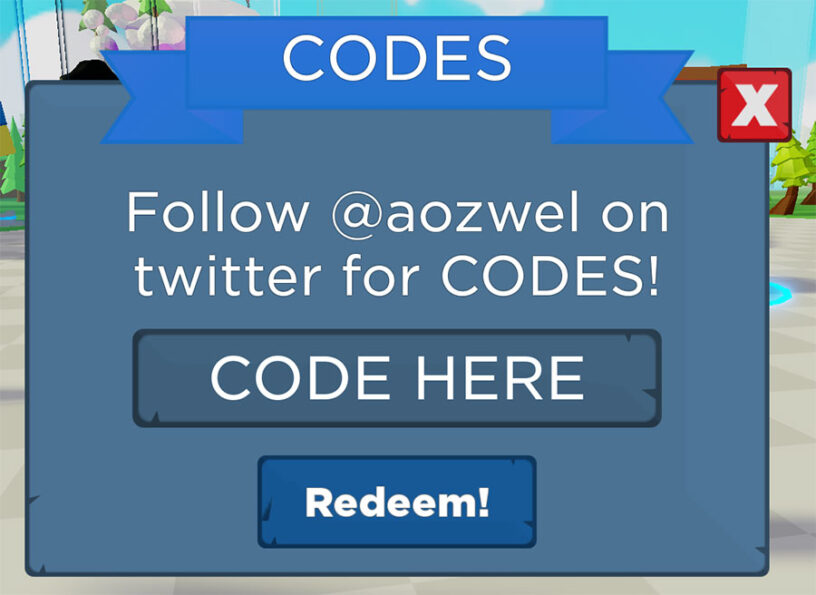 Where to get Boss Fighting Simulator Codes?
Follow Broken Wand Studios, the game's developer, on Twitter if you want to find more codes. You may also acquire news, and updates, and interact with other players by joining the game's official Discord server. Otherwise, we'll be regularly updating this wiki with the latest recent codes, so check back often!
Frequently Asked Questions
1. What rewards will I receive after redeeming the codes?
After redeeming Boss Fighting Simulator Codes, you will earn coins, power, runes, and crystals.
2. Can I play Boss Fighting Simulator on my Android smartphone?
3. What is the reward for the code 'HugeRunes?
The reward for the code 'HugeRunes' is 500 Runes.
Conclusion
The recent functional Roblox Boss Fighting Simulator codes are delivered here in this post. Power, cash, runes, and crystals can all be traded for them! Because codes do cease after a specific amount of time, you'll prefer to utilise them as soon as possible.